This Surf Wide is the next evolution of NSP's popular DC Surf Wide range. This newly shaped DC Surf Wide is built with NSP's Patent-Pending and award-winning CocoFlax technology, incorporating flax fibers on the rail sections and the entire construction is bonded with Greenpoxy® bio-resin.
Features
The Cocoflax DC Surf Wide features a square tail for extra speed and stability.
Single to double concave bottom with a slight vee through the tail makes this board a turning machine in small and mushy conditions.
The five fin boxes offer tri-fin or quad-fin setups to optimize the fin cluster for your style or for the surf conditions.
Outstanding strength to weight ratio utilizing exclusive Cocomat technology with eco-friendly bio-resin.
Ideal for the surfer looking for a highly durable, stable, responsive surf SUP to take their performance to the next level.
The five fin boxes offer tri-fin or quad-fin setups to optimize the fin cluster for your own style or surf conditions.
To get you started right out of the box, the DC Surf Wide is supplied with three J5 fins.
Specifications
| Length | Width | Thickness | Volume | Weight +/- 5% |
| --- | --- | --- | --- | --- |
| 8'3" | 32" | 4.5" | 141 Liters | 8.02 Kg |
Construction
Amazingly light, yet strong, high-end eco-friendly performance boards featuring natural Flax rails. Recognized and awarded at the 2019 Paddle Expo as ."Product of the Year" What's more, all NSP Cocoflax boards carry the highly desirable "Gold Level" Ecoboard label. Boards carrying this label are manufactured with more sustainable materials, sourced from responsible supply chains, and made by board builders with improved manufacturing processes.
In 2019, NSP introduces uni-directional (UD) Flax fiber rails to its (already) eco-friendly CocoMat series. Flax is a highly durable and naturally reinforced fiber that allows a board construction with significantly less fiberglass, which reduces our overall carbon footprint.
Natural Flax fiber rail and tail patch. Visually unique board with an unmatched strength to weight ratio. Light to carry, easy to maneuver and even lighter to paddle. Responsive flex and strength enable you to push your limits.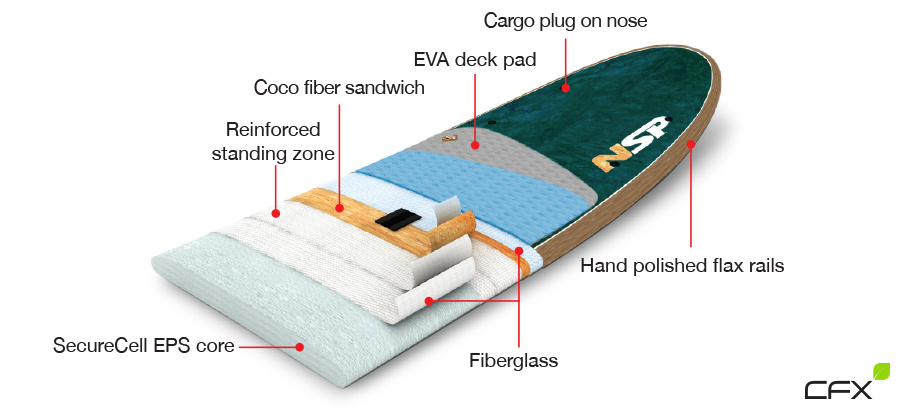 Shape