High performance dry suit with SwitchZip technology!
The Radius is a high performance dry suit from Kokatat features SwitchZip technology that separates completely at the waist which gives touring paddlers the versatility of a dry suit, pants and dry top in one garment.
The top can be worn alone as a dry top and has a fully adjustable hood that can be removed or stowed in its fleece lined outer collar. Additionally the top has easy to access, self-draining zippered pockets on each sleeve, reflective accents, and latex neck and wrist gaskets.
The pants feature 330 Cordura® GORE-TEX® Pro Shell in the knees and seat for added durability, a pocket on the right thigh, and GORE-TEX® socks so make sure you're wearing them with sandals/booties to protect the Goretex. They are secured with a drawstring waist.
When the two parts are zipped together, the Radius is a fully waterproof dry suit with a hood. It is easy to get into as you don't need to struggle with cross front zips, or behind your back zips. The waist zip sits between the seat back and bucket of your seat so it isn't in the way, and also means that there is no need for an additional relief zipper. The SwitchZip zipper itself is easy to engage, and even though the mechanism is bigger than previous zips, it folds away easily and is not really noticeable.
The Radius is also backed by Kokatat's limited lifetime warranty so you know you've got a good thing going.
  Dry
TECHNICAL SPECS
It's a dry suit, it's a dry top, it's a pant!
330 Cordura® GORE-TEX® Pro legs
Evolution 3.21 oz. nylon 3-layer GORE-TEX® Pro body
SwitchZip waterproof fully separating entry/relief zipper system
Latex wrist gaskets with "hook & loop" neoprene cuffs
Evolution 3.21 oz. nylon 3-layer GORE-TEX® Pro socks
Strategic zipper placement sits between backband and seat
No entry zipper on torso
One zipper for entry and relief
Self-draining, zippered sleeve pockets and thigh pocket with key lanyard
Dual adjustable over skirt with "hook & loop" compatible neoprene
Zipper flap to protect top half of zipper in dry top configuration
Latex neck gasket
Removable or stowable GORE-TEX® hood
Every suit 100% fill tested; guaranteed to be dry
PRODUCT CARE
Machine or hand wash cool with liquid detergent
Hang to dry
Do not bleach or dry clean
Store it dry, hanging, or loosely folded
SIZING (WOMEN)
WOMEN'S (IN)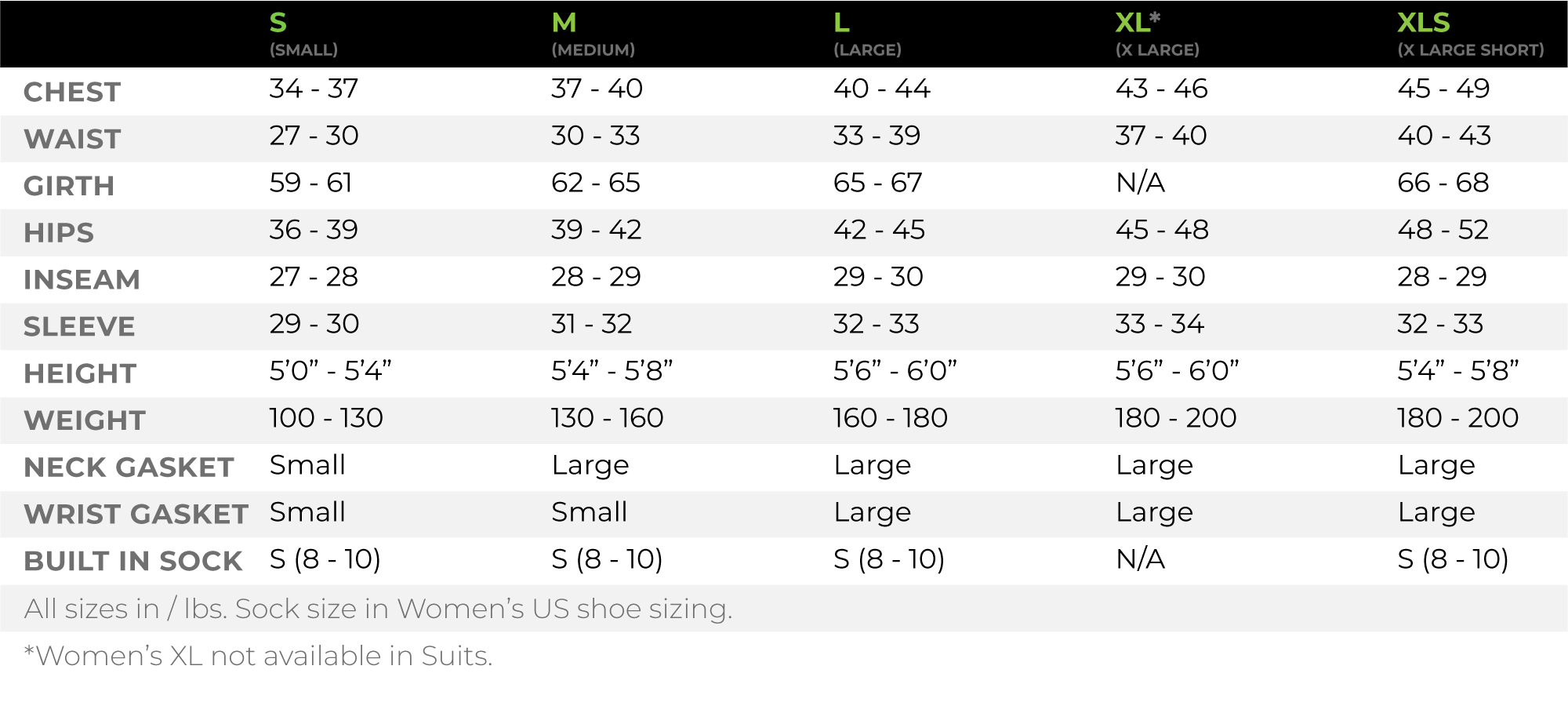 WOMEN'S (CM)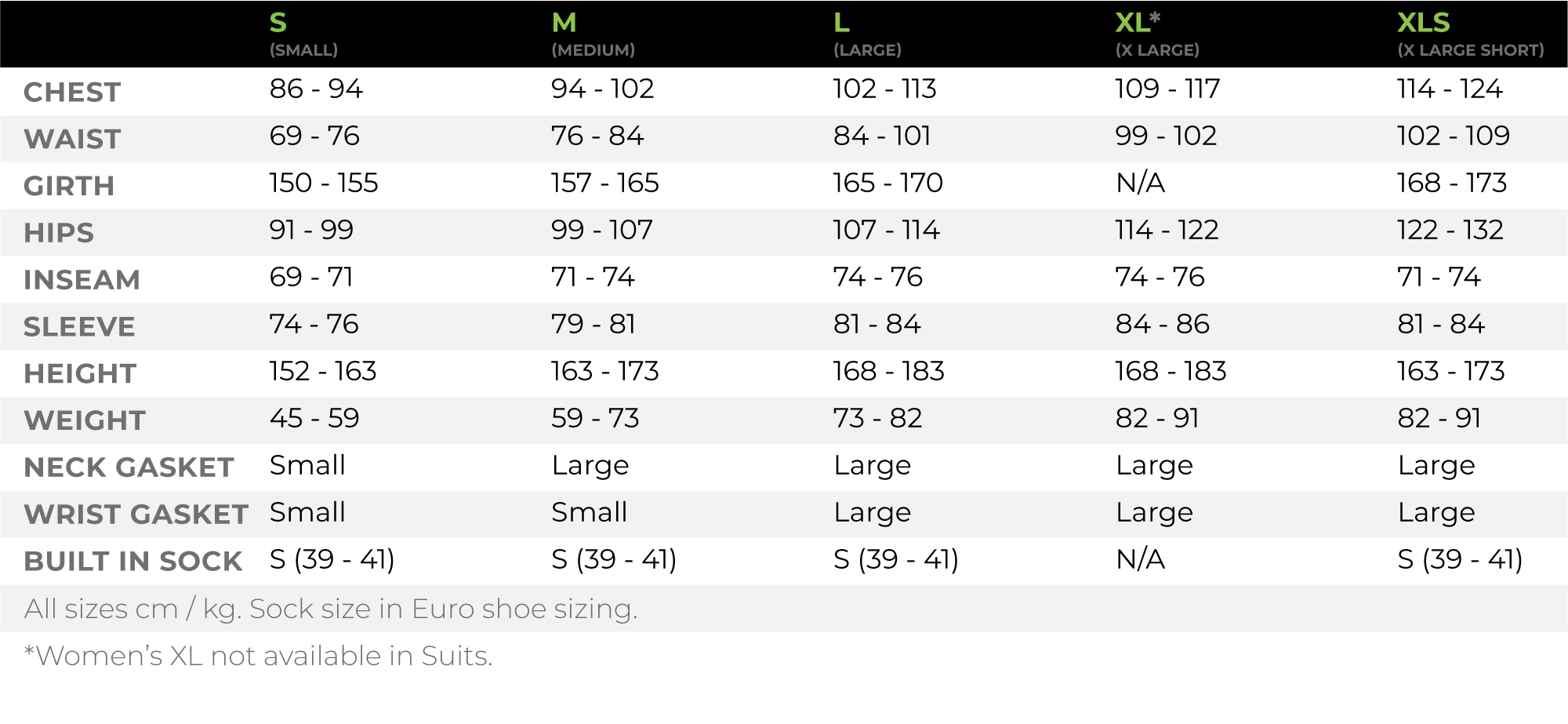 SIZING (MEN)
Men(IN):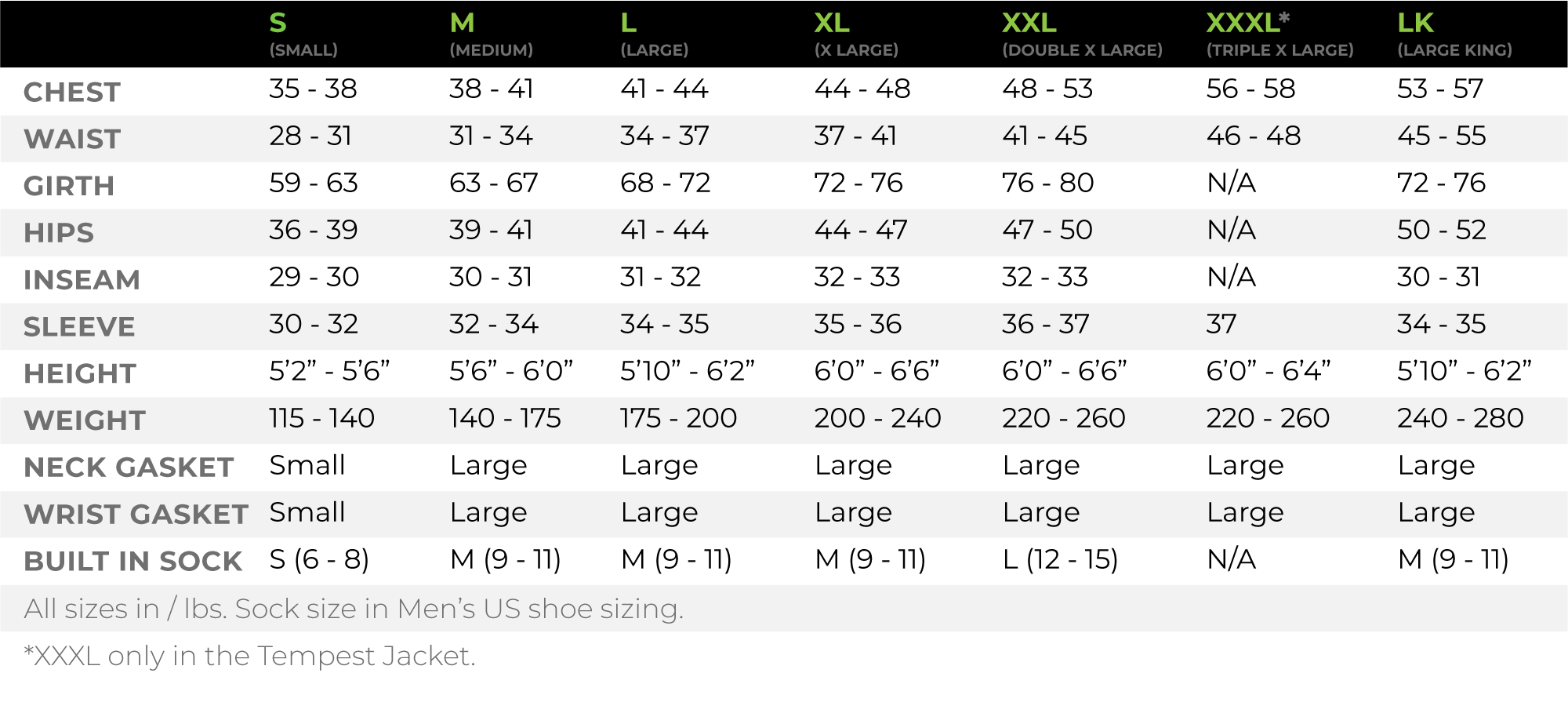 Men(CM):