The ultimate Soft Allrounder SUP – a perfect blend of fun wave performance and flatwater paddling glide makes this board a trendsetter in the market.
Features
Proven outline with semi-pointed surf style nose with moderate nose lift, a forward wide point for stability and easy paddling.
Pulled in round tail for speed, maneuverability and control.
Single to double concave bottom and a light vee through the tail, generates speed quickly and maintains smooth flow from turn to turn.
Fin box options to optimize the conditions or to suit your preferred surf fin set up.
Available in two other technologies: CocoFlax and Elements with eco-friendly bio-resin.
From flat water cruising to fun surf days at the beach – the NSP Allrounder series has you covered.
Two plugs on deck to attach PFD (Personal Floatation Device) for 10'0″, 10'6″, 10'11″
Nose insert for GoPro®
Specifications 
| Length | Width | Thickness | Volume | Weight +/- 5% |
| --- | --- | --- | --- | --- |
| 8'0'' | 29" ¹/² | 4" | 106.3 Liters | 8.15 Kg |
Construction
Creating the P2 Soft construction is all about safety and providing a platform that enables students to learn in the most efficient way possible. And while the P2 Soft Allrounder is not necessarily the ideal beginner board, the full-EVA cover will allow for plenty of mistakes and ensures nobody riding this board is going to injure themselves.
The P2 core is identical to NSP's SecureCell EPS, fully glassed in a durable fiber epoxy shell with eco-friendly bio-resin. While the top part of the board is covered in EVA, the bottom features slicker PE for a smooth glide through the water.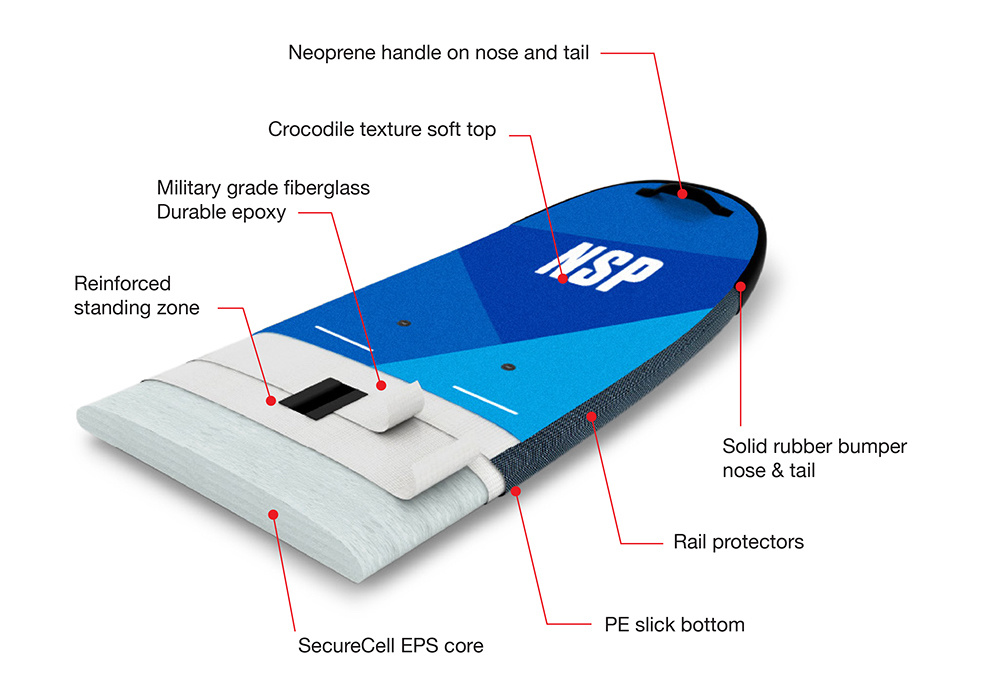 Shape