Stand Up Paddle Boards for Sale
Here at Coast Outdoors we have a huge range of paddle boards available to suit the needs of any paddler, regardless of experience. From all-rounder SUPs to explore your local lakes, to high-end boards for serious ocean expeditions and racing, surf SUPs for shredding your local beach break, and even inflatable paddle boards for easy storage and portability.
What Stand Up Paddle Board is Right for Me?
SUPs come in many different styles, sizes, and constructions and these factors all affect how the board handles and what environment it is best suited for. So, with all these options, how do you chose the right paddle board? Our knowledgeable staff can help you narrow down your search, so feel free to Contact Us with any questions. To get you started on your journey and point you in the right direction, take a look at the following information:
All-Rounder SUPs
These stand up paddle boards prioritise stability and ease of use, so anybody can paddle them and have a blast! Being shorter and wider improves maneuvering and stability, so you can focus on enjoying your surroundings without worrying about falling. Some all-rounder boards also perform well in the surf.
See: All-Rounder SUPs
Touring SUPs
When you're looking to explore farther, or go on day trips and over-nighters, these paddle boards are the way to go. Still very stable and maneuverable, however, these SUPs are longer and have much much more deck space for carrying gear for your excursion. The hull designs of touring boards are also much more efficient, so you can get from point A to point B faster and with less wasted energy.
See: Touring SUPs
Race & Fitness SUPs
When you need peak efficiency you want to look at paddle boards in this category. These boards are much longer and narrower than your typical SUP to maximise speed and efficiency. Some excel in flat water conditions, while other favour bumps and downwind conditions.
See: Race & Fitness SUPs
Surf SUPs
For the dedicated surfers out there, these surf paddle boards are a game changer. It's not uncommon to catch twice as many waves on a surf SUP compared to a traditional surf board. Sizes vary considerably for different conditions and skill levels. Short and low volume for advanced surfers on steep waves, and long and high volume for novices on small, mushy waves.
See: Surf SUPs
Inflatable SUPs
Inflatable paddle boards are ideal for many city dwellers due to the compact size for storage and transport. They're also ideal for hiking in to hidden lakes where you wouldn't be able to take a rigid board. And inflatable paddle board is also perfect for travelling, as they pack down in to a convenient luggage-sized bag. These boards come in different styles, from all-rounder, to touring, and even race!
See: Inflatable SUPs
How to Choose a SUP Paddle
SUP paddles, much like paddle boards themselves, come in different styles, sizes, and construction types. The type of SUP paddle you choose will be based on several factors, such as your personal paddling style and preferred environment for paddle boarding, your height, the style and width of your paddle board, and your budget. 
SUP paddles come in three main blade shapes: Teardrop, Hybrid, and High Aspect. The shape you choose will be determined by your natural technique while paddle boarding. The classic Teardrop blade is wide and fairly rounded at the bottom, so even if you have very relaxed technique (top hand below chin-level and shaft coming across your chest) you'll still get plenty of blade in the water. The Hybrid blade is squared off slightly in the lower portion of the blade, bringing some of the surface area higher up. This allows you to more easily choose how much blade you want in the water. The High Aspect shape is very squared and is narrower than the other shapes, allowing you to plant the blade much closer to the board for a better catch and stronger pull in the water. See blade examples below.
Teardrop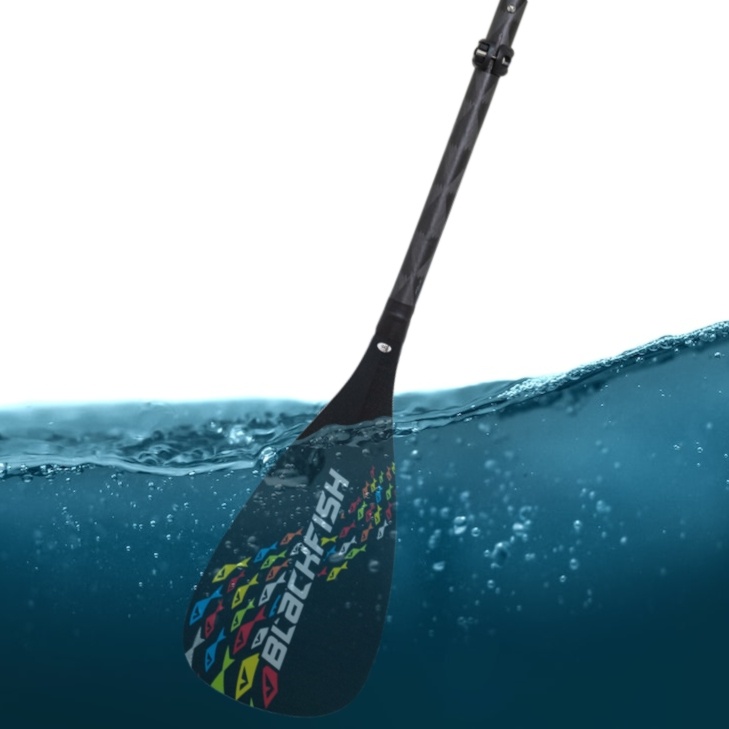 Relaxed angle
Hybrid
More vertical
High Aspect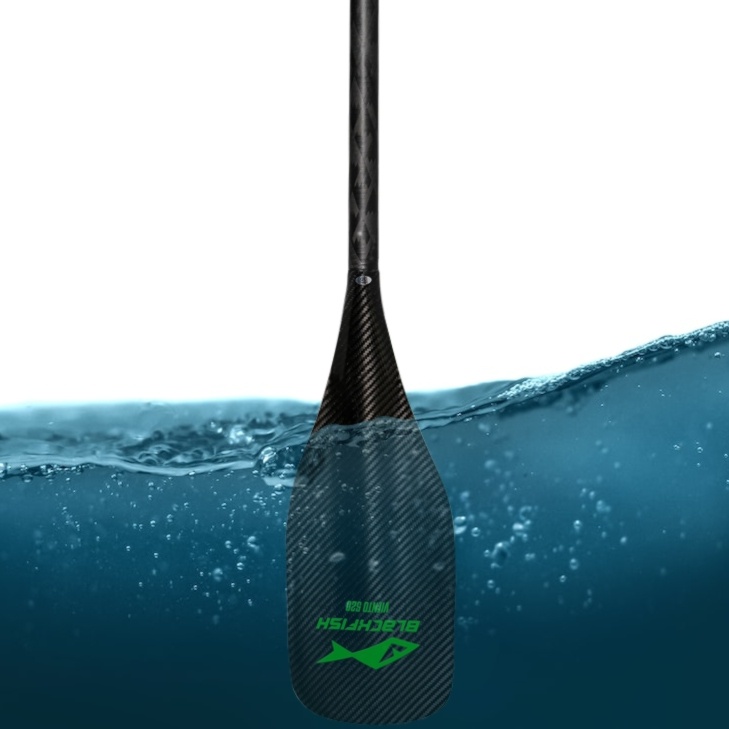 Vertical
Your preferred paddling environment will also help you decide on which blade shape you need for your SUP paddle. If you're cruising around lakes and bays, or getting in the surf, the Teardrop blade is ideal. For anyone venturing further and doing some touring, the better performance of the Hybrid shape will benefit you. Fitness paddlers or racers will want a High Aspect blade for maximum performance.
Now that you have an idea of which style of blade you need, you're probably wondering how to size your paddle. We typically recommend a paddle length somewhere between the top of your head and 8 inches over head height. Casual paddlers, and those with wider boards will need a longer shaft, whereas a racers will want to go fairly short so they can maximise core engagement. Many paddles have adjustable shafts so you can experiment with length and find what works best for you. If you're purchasing your first one piece paddle and getting it cut to size you can start long and have it cut down again later if you need.
Paddle constructions affect the feel and functionality of the paddle. SUP paddles often come in options of One Piece, Two Piece Adjustable, and Three Piece Adjustable. One Piece paddles will be the lightest and stiffest and are a set length, Two Piece paddles are adjustable, and Three Piece paddles are adjustable and have a removeable blade for easier storage and transport. The different materials used for paddle blades and shafts determine its stiffness and performance. On the more budget-friendly end you have nylon blades paired with a fiberglass or carbon shaft, then you move into fiberglass blades with a carbon shaft, and for the best performance and lightest weight you have full carbon paddles.