Categories
Skate Skis
Classic Skis
Poles
Junior
Gloves
Skate Skis
Fischer
Salomon
Madshus
Rossignol
Classic Skis
Fischer Skate Skis
Salomon Skate Skis
S/Lab, S/Race, S/Max, RS 10

RS8

RS7

| | |
| --- | --- |
| Ski Length | Bodyweight |
| 170 | 35 - 50kg |
| 177 | 45 - 60kg |
| 182 | 50 - 70kg |
| 187 | 60 - 80kg |
| 192 | 70 - 90kg |
| 192 X-STIFF | 90 - 110kg |

| | |
| --- | --- |
| Ski Length | Bodyweight |
| 174 | 40 - 55kg |
| 179 | 50 - 65kg |
| 179 X-STIFF | 70 - 90kg |
| 186 | 60 - 75kg |
| 191 | 70 - 90kg |
| 191 X-STIFF | 90 - 110kg |

| | |
| --- | --- |
| Ski Length | Bodyweight |
| 174 | 40 - 55kg |
| 179 | 50 - 65kg |
| 179 X-STIFF | 70 - 90kg |
| 186 | 60 - 75kg |
| 191 | 70 - 90kg |
| 191 X-STIFF | 90 - 110kg |
Madshus Skate Skis
| | |
| --- | --- |
| Skier Height | Ski Length |
| 165 cm | 172 |
| 170 cm | 172/177 |
| 175 cm | 177/182 |
| 180 cm | 182/187 |
| 185 cm | 187/192 |
| 190+ cm | 192 |
Rossignol Skate Skis
X-IUM Skating Premium
X-IUM Skating WCS S2

| Ski size (cm) | Recommended weight |
| --- | --- |
| 173 | 35 - 45 Kgs |
| 178 | 40 - 50 Kgs |
| 183 | 50 - 65 Kgs |
| 183 Stiff | 60 - 75 Kgs |
| 188 | 65 - 75 Kgs |
| 188 Stiff | 70 - 85 Kgs |
| 193 Soft | 75 - 85 Kgs |
| 193 | 75 - 85+ Kgs |
| 193 Stiff | 85 - 95+ Kgs |

| Ski size (cm) | Recommended weight |
| --- | --- |
| 167 | 45 - 55 Kgs |
| 173 | 50 - 60 Kgs |
| 180 | 55 - 70 Kgs |
| 186 | 70 - 85 Kgs |
| 192 | 85 - 95+ Kgs |
X-IUM Skating
Delta Comp Skating

| Ski size (cm) | Recommended weight |
| --- | --- |
| 173 | 45 - 60 Kgs |
| 180 | 55 - 70 Kgs |
| 186 | 65 - 80 Kgs |
| 192 | 75 - 95+ Kgs |

| Ski size (cm) | Recommended weight |
| --- | --- |
| 173 | 40 - 60 Kgs |
| 180 | 55 - 70 Kgs |
| 186 | 65 - 85 Kgs |
| 192 | 75 - 95+ Kgs |
Fischer Classic Skis
Salomon Classic Skis
S/Lab Waxable
S/Race Skin, RC 10 Skin

| | | |
| --- | --- | --- |
| Ski Length/Flex | Height | Bodyweight |
| 188 SOFT | 150 - 166cm | 40 - 55kg |
| 188 MED | 150 - 166cm | 55 - 65kg |
| 196 SOFT | 166 - 173cm | 45 - 55kg |
| 196 MED | 166 - 173cm | 55 - 65kg |
| 201 SOFT | 173 - 178cm | 65 - 75kg |
| 201 MED | 173 - 178cm | 75 - 85kg |
| 206 SOFT | 178 - 210cm | 70 - 80kg |
| 206 MED | 178 - 210cm | 80 - 90kg |
| 206 HARD | 178 - 210cm | 90 - 100kg |

| | | |
| --- | --- | --- |
| Ski Length/Flex | Height | Bodyweight |
| 188 SOFT | 150 - 166cm | 40 - 55kg |
| 188 MED | 150 - 166cm | 55 - 65kg |
| 188 HARD | 150 - 166cm | 65 - 75kg |
| 196 SOFT | 166 - 173cm | 45 - 55kg |
| 196 MED | 166 - 173cm | 55 - 65kg |
| 196 HARD | 166 - 173cm | 65 - 75kg |
| 201 SOFT | 173 - 178cm | 65 - 75kg |
| 201 MED | 173 - 178cm | 75 - 85kg |
| 201 HARD | 173 - 178cm | 85 - 95kg |
| 206 SOFT | 178 - 210cm | 70 - 80kg |
| 206 MED | 178 - 210cm | 80 - 90kg |
| 206 HARD | 178 - 210cm | 90 - 100kg |
| 206 X-HARD | 178 - 210cm | 100 - 120kg |
RC 8 Skin, RC 7 Skin
Aero 9 Skin, Aero 7 Skin, Escape 5 Grip

| | | |
| --- | --- | --- |
| Ski Length/Flex | Height | Bodyweight |
| 188 MED | 150 - 166cm | 55 - 65kg |
| 188 HARD | 150 - 166cm | 65 - 75kg |
| 196 MED | 166 - 173cm | 55 - 65kg |
| 196 HARD | 166 - 173cm | 65 - 75kg |
| 201 MED | 173 - 178cm | 75 - 85kg |
| 201 HARD | 173 - 178cm | 85 - 95kg |
| 206 MED | 178 - 210cm | 80 - 90kg |
| 206 HARD | 178 - 210cm | 90 - 100kg |
| 206 X-HARD | 178 - 210cm | 100 - 120kg |

| | |
| --- | --- |
| Ski Length/Flex  | Bodyweight |
| 170 | 40 - 55kg |
| 182 | 50 - 65kg |
| 190 | 60 - 75kg |
| 198 | 70 - 85kg |
| 206 | 80 - 95kg |
| 206 X-STIFF | 90 - 110kg |
Madshus Classic Skis
| | |
| --- | --- |
| Skier Height | Ski Length |
| 165 cm | 172 |
| 170 cm | 172/177 |
| 175 cm | 177/182 |
| 180 cm | 182/187 |
| 185 cm | 187/192 |
| 190+ cm | 192 |
Rossignol Classic Skis
MODELS
X-IUM Classic Premium C2
X-IUM Classic
X-IUM R-Skin
Ski size (cm)
Recommended weight
Ski size (cm)
Recommended weight
Ski size (cm)
Recommended weight
190
40 - 52 Kgs (medium)
53 - 60 Kgs (stiff)
186
35 - 55 Kgs
186
55 - 70 Kgs (stiff)
197
57 - 63 Kgs (medium)
64 - 70 Kgs (stiff)
50 - 56 Kgs (soft)
191
40 - 60 Kgs
191

55 - 65 Kgs (medium)

65 - 75 Kgs (stiff)

202
67 - 73 Kgs (medium)
74 - 80 Kgs (stiff)
60 - 66 Kgs (soft)
198
50 - 70 Kgs
198

60 - 75 Kgs (medium)

70 - 90 Kgs (stiff)

207
77 - 83(medium)
84+ Kgs (stiff)
70 - 76 Kgs (soft)
203
65 - 80 Kgs
203
65 - 80 Kgs (medium)
 
 
208
70 - 90+ Kgs
208
80 - 95+ Kgs (medium)
Backcountry
BC 65
Ski size (cm)
Recommended weight
S 165
40 - 60 Kgs
M 175
50 - 70 Kgs
L 185
60 - 80 Kgs
XL 195
80+ Kgs
Junior Cross Country Skiing
Junior Skate Skis
Fischer
Salomon
Madshus
Rossignol
Junior Classic Skis
Fischer
Salomon
Madshus
Rossignol
Fischer Junior Skate Skis
Fischer Junior Classic Skis
Cross Country Ski Poles
Ski poles are measured in centimeters and the length is determined by your height and the ski discipline you intend to use them for. Skate poles will be longer than classic poles. When measuring for your pole length you should stand on flat ground in either your regular shoes, or ski boots. There will be a size range for both skate and classic poles depending on your ability or personal preference. Longer poles will give you better drive, but can be harder to handle, while shorter poles offer easier handling, but less drive.
For skate poles you will typically want a length that has the top of the handle somewhere between your mouth and nose height. For classic poles anywhere from your armpit to the top of your shoulder is good.
The size guide below also offers a handy way to calculate pole length based on your height (in cm). For skate, multiply your height by 0.89, and for classic multiply your height by 0.83. For example, a person who is 183cm (6') tall would use the calculation 183 x 0.89 = 163 for their skate pole length. You can round to do nearest whole centimeter.
Ski poles typically come sized in 5cm increments, so if you're between sizes choose the longer one, as you can usually cut a pole down later if you decide it is too long, but you cannot make a pole longer.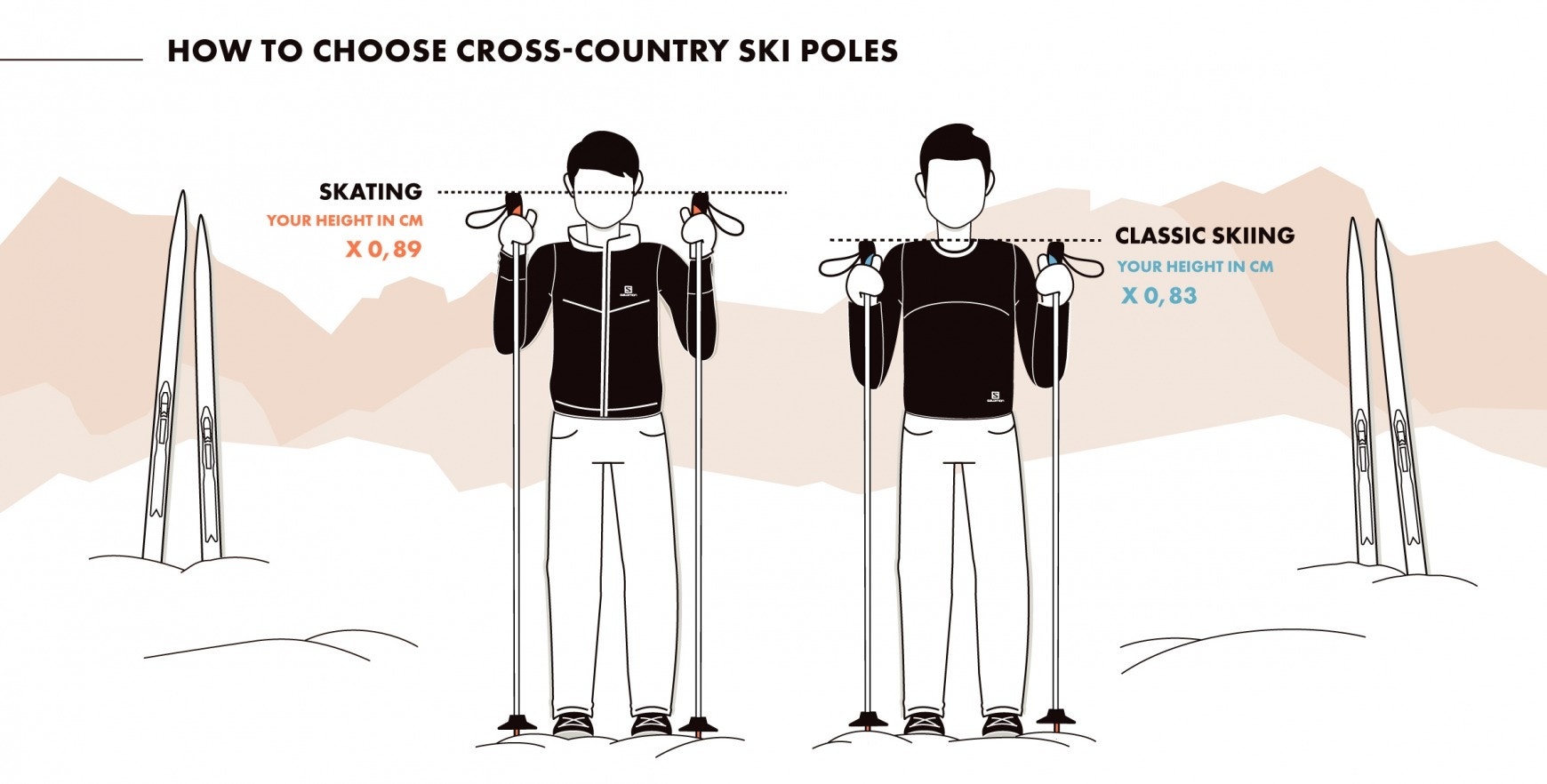 Cross Country Gloves
Lill Sport
KV+
Hestra
Sportful
Auclair
Craft
Lill Sport Gloves
| | |
| --- | --- |
| Measure the circumference of your hand around the middle of your palm in CM. | |
| | | |
| --- | --- | --- |
| Junior |   |   |
| Age | Size | Hand Circumference |
| 5-7 | 4 | 16 cm |
| 8-9 | 5 | 17 cm |
| 10-12 | 6 | 18 cm |
| 13-14 | 7 | 19 cm |
| Adult |   |   |
| Size | Size | Hand Circumference |
| XXS | 6 | 18 cm |
| XS | 7 | 19 cm |
| S | 8 | 20 cm |
| M | 9 | 23 cm |
| L | 10 | 25 cm |
| XL | 11 | 28 cm |
| XXL | 12 | 30 cm |
KV+ Gloves
| | |
| --- | --- |
| Measure the circumference of your hand around the middle of your palm in MM. | |
| | | |
| --- | --- | --- |
| Size | Euro Size | Hand Circumference |
| XS | 6 | 152-178 mm |
| S | 7 | 178-203 mm |
| M | 8 | 203-229 mm |
| L | 9 | 229-254 mm |
| XL | 10 | 254-279 mm |
| XXL | 11 | 279+ mm |
Hestra Gloves
| | |
| --- | --- |
| Measure the circumference of your hand around the middle of your palm in MM. | |
| | | |
| --- | --- | --- |
| Size | Euro Size | Hand Circumference |
| XXS | 5 | 127-152 mm |
| XS | 6 | 152-178 mm |
| S | 7 | 178-203 mm |
| M | 8 | 203-229 mm |
| L | 9 | 229-254 mm |
| XL | 10 | 254-279 mm |
| XXL | 11 | 279+ mm |
Sportful Gloves
| | |
| --- | --- |
| Measure the circumference of your hand around the middle of your palm in Inches. | |
| | |
| --- | --- |
| Size | Hand Circumference |
| XS | 6 inches |
| S | 7 inches |
| M | 8 inches |
| L | 9 inches |
| XL | 10 inches |
| XXL | 11 inches |
Auclair Gloves
| | |
| --- | --- |
| Measure the circumference of your hand around the middle of your palm in CM or Inches. | |
| | | |
| --- | --- | --- |
| Men |   |   |
| Size | Inches | CM |
| XS | 6-7 | 15-18 |
| S | 7-8 | 18-20.5 |
| M | 8-9 | 20.5-23 |
| L | 9-9.5 | 23-24 |
| XL | 9.5-10 | 24-25.5 |
| Women |   |   |
| Size | Inches | CM |
| S | 6.5 | 15-17 |
| M | 7 | 17-19 |
| L | 7.5 | 19-20 |
| XL | 8 | 20-21.5 |
Craft Gloves
| | |
| --- | --- |
| Measure the circumference of your hand around the middle of your palm in Inches. | |
| | |
| --- | --- |
| Size | Hand Circumference |
| XS | 7 inches |
| S | 8 inches |
| M | 9 inches |
| L | 10 inches |
| XL | 11 inches |