The combination of high volume with a displacement hull makes this an excellent traveling partner. For dedicated wildlife explorers or multiple-day creek tours, there is no board better suited than the Cocoflax Performance Touring, as it has the convenience, the durability, and the efficient hull design, all in an eco-friendly construction – just the way NSP likes it. 
SUP Touring entails paddling for longer distances at a moderate pace without taking a break. If epic adventures (and core workouts) excite you, then SUP touring is going to be your next hobby. The best touring boards have a wider template to float more weight and additional gear. Like all touring boards, the Cocoflax Performance touring has a distinctly bulbous nose, setting it apart from conventional shapes.
Specifications
| Length | Width | Thickness | Volume | Weight +/- 5% |
| --- | --- | --- | --- | --- |
| 12'6'' | 32'' | 8" ³/⁸ | 316.8 Liters | 14.69 Kg |
Construction
Amazingly light, yet strong, high-end eco-friendly performance boards featuring natural Flax rails. Recognized and awarded at the 2019 Paddle Expo as "Product of the Year". What's more, all NSP Cocoflax boards carry the highly desirable "Gold Level" Ecoboard label. Boards carrying this label are manufactured with more sustainable materials, sourced from responsible supply chains, and made by board builders with improved manufacturing processes.
In 2019, NSP introduces uni-directional (UD) Flax fiber rails to its (already) eco-friendly CocoMat series. Flax is a highly durable and naturally reinforced fiber that allows a board construction with significantly less fiberglass, which reduces our overall carbon footprint.
Natural Flax fiber rail and tail patch. Visually unique board with an unmatched strength to weight ratio. Light to carry, easy to maneuver and even lighter to paddle. Responsive flex and strength enable you to push your limits.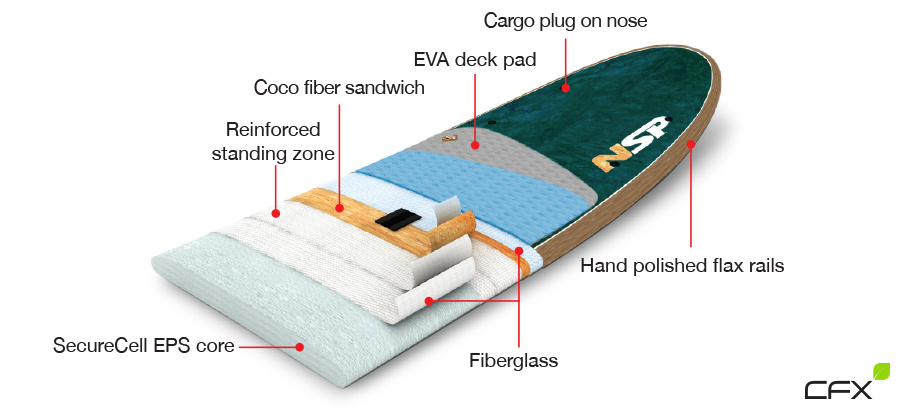 Shape