The New Zealand made C-Tug Kayak and Canoe cart sets the standard with its sophisticated style and precision design. C-Tug is the best, most versatile and durable kayak cart on the market. It carries up to 120kg (260 lbs), dismantles for easy stowing, and won't rust. It also works great for hauling SUPs.
Features
Dismantles in under 20 seconds
Fits inside kayak hatch
Tool-free assembly
Puncture-free wheels with hi-grip rubber tread
Light weight 4.3 kg (10 lbs) and easy to handle
120kg (260 lbs) static loading (capacity will vary with dynamic loading on different terrains)
Reinforced composite material
Thermo-bonded elastomeric hull pads
Stainless steel reinforced axles
2.8m (9 ft) strap with heavy duty buckle
Adjustable kick-stand
Construction Materials
UV stabilised ABS, acetal and nylon plastic
UV stabilised santoprene elastomer
Polyester webbing
Die cast aluminium cam-lock buckle
Stainless steel
Demensions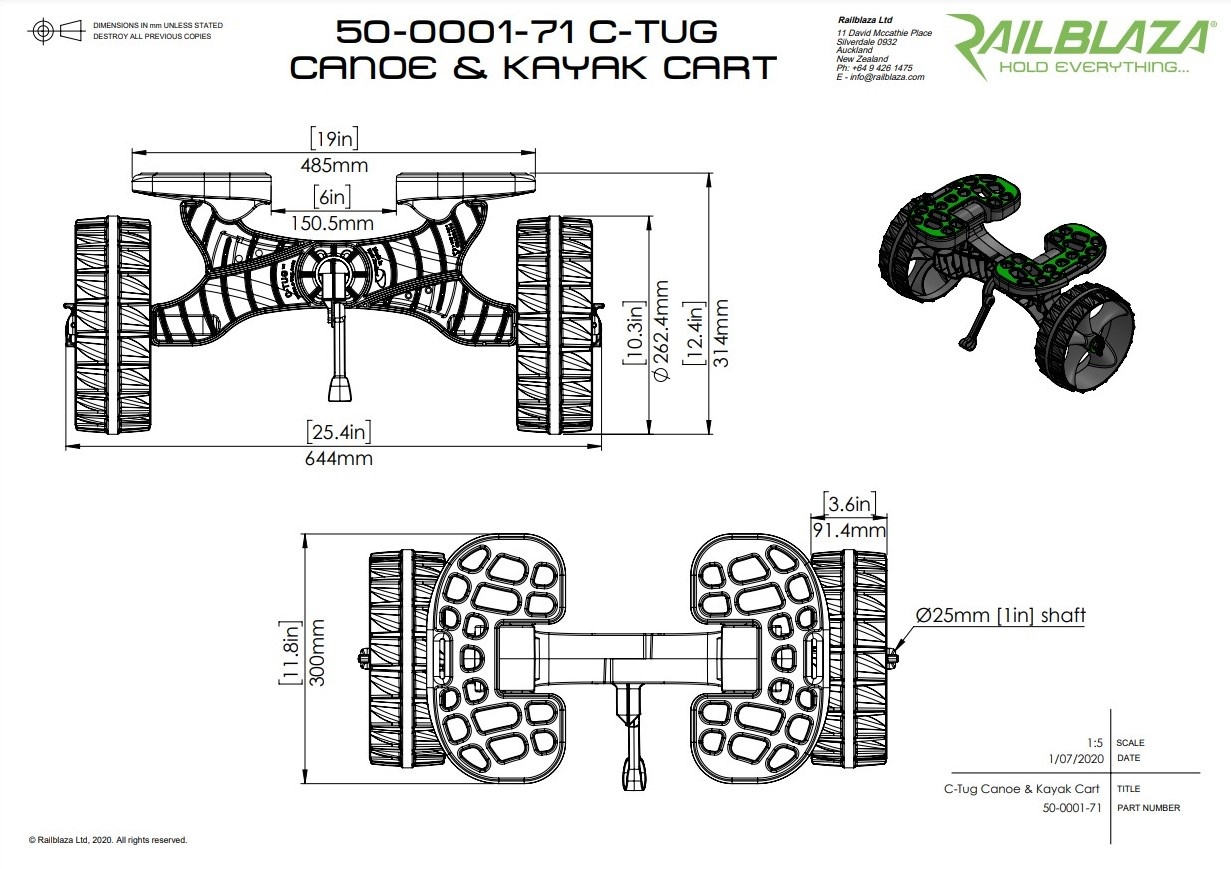 C-Tug care
Due to the marine environments where these products may be used, we suggest the following steps to help extend the life of your C-TUG wheels:
After use in salt water, sandy areas and dusty conditions, remove the wheels, disassemble and hose down with fresh water. Wash the axle area thoroughly.
Do not clean with solvents or solvent based products and avoid commercial cleaning products. Fresh clean water is suitable for cleaning all C-Tug components.
Do not leave your C-Tug cart or wheels in strong sunlight for extended periods. While C-Tug is designed for use outdoors but both rubber and thermoplastics will degrade if left in strong sunlight for extended periods.
If your C-Tug is fitted with pneumatic tires, do not over inflate them. The recommended maximum inflation pressure is 25 PSI cold. Replace the valve stem caps after inflation
RAILBLAZA C-Tug products are robust, and designed to take the hard work out of getting your watercraft to and from the water. With reasonable care you can expect your C-Tug to serve you well for many years. C-Tug encourages users of C-Tug products to observe safe practice procedures when using products in marine environments.
C-Tug products are designed for the movement of watercraft. They should never be used for the movement of people, either directly, or in or on watercraft or other objects placed on the cart.
The C-Tug is designed to be pulled manually, do not tow with any vehicle, including bicycles – this will void the warranty.