SUP Paddles, What you need to know
If you found this blog you are probably curious about this Stand Up Paddleboard thing or more commonly known as SUP. Maybe you have been doing it for a while and are looking to upgrade, or perhaps you are a complete newbie. Either way you cut it, it can get confusing. So, to help you out, we are going to break down SUP paddles for you.
Why Buying the Right Paddle Matters...
Personally, I think paddles are the most important part of your gear selection. It is your engine and your connection to the water.
Put it this way, you wouldn't buy a Ferrari and then take it to Walmart to get tires, would you?
Yes, Size Matters
The first thing to take into consideration is paddle shape and size. Paddle shape can vary and each shape can be more effective for certain tasks. Kind of like a butter knife and a steak knife. A butter knife won't destroy your bread but cutting your meat is another thing. While, it is not quite that dramatic, each paddle can be better suited for certain people and activities, so yes, size matters…
Size Explained: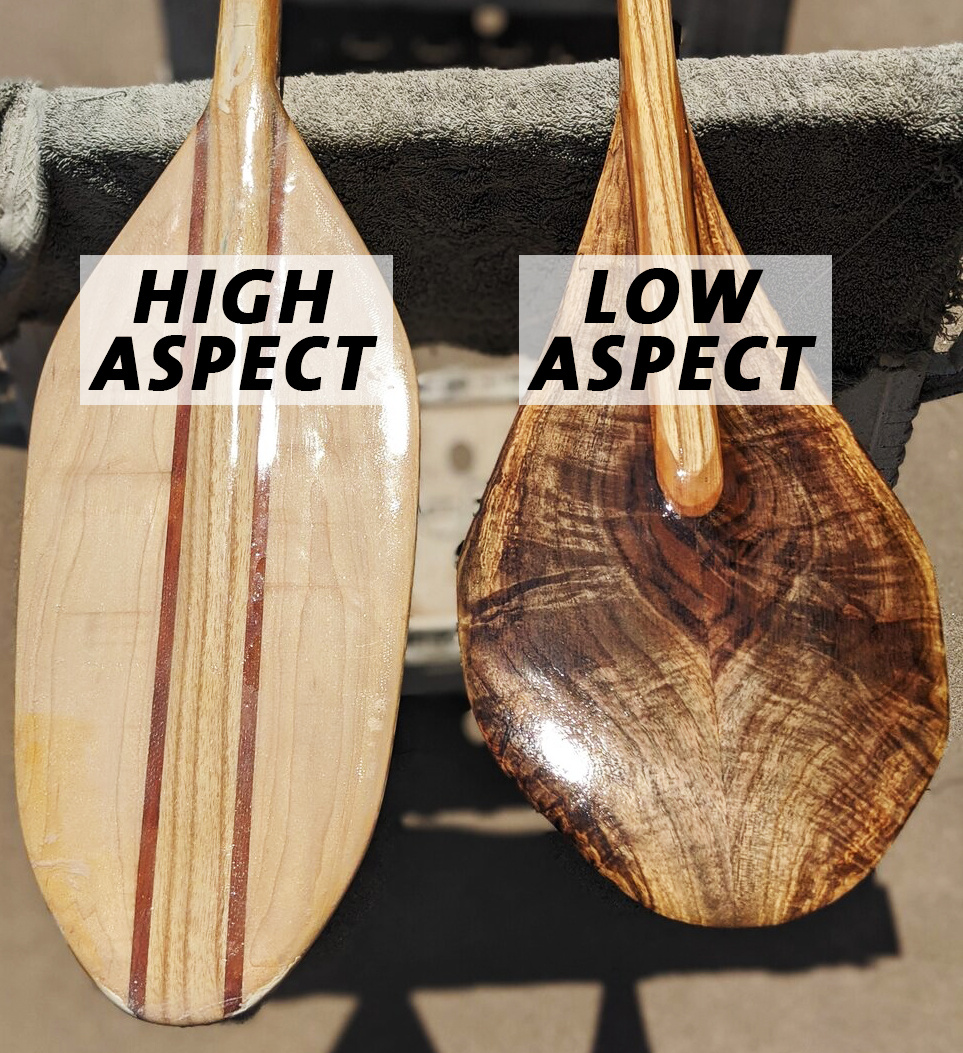 Tear Drop/Low Aspect
Tear drop' (or Low Aspect) paddles are shaped like a tear drop….shocker. They are fuller at the base, which can create a powerful catch and can be more forgiving if your paddle isn't full immersed. For this reason, they are often used in surf paddles and beginner paddles. In both surfing and as a beginner, your strokes may not always be perfectly immersed in the water. But with the fullness at the tip of the paddle, it can allow for a "mulligan" if you miss a few strokes here or there. A few paddles that employ this shape are:

Blackfish Nootka
Werner Rip Stick - Surf Paddle
Powerful catch
Great for beginners
More forgiving on technique
Lower cadence
Great in rougher waters
High Aspect
High Aspect paddles are typically narrower and longer than Low Aspect Paddles.This allows you to get closer to your board without hitting it. A number of benefits come with this shape, such as a decrease in the need to lean side to side, and room to using various stroke techniques. Another benefit to high aspect paddles, is its ability to be smooth and consistent through your stroke phases. This makes it great for longer distances and higher cadences.

Paddles with this shape are:
Blackfish Viento
Starboard Lima
Werner Trance
Narrower & Longer
Smoother stroke
Less leaning from side to side required
Great for longer distance
Designed for a higher cadence
Better technique required to benefit fully
Hybrid SUP paddle example:
Blackfish Andaman - A blend of High Aspect & Low Aspect
Shaft Size
This is an easy one to pick. Basically, you can get a standard or a small fit diameter. If you have small hands or are a woman, consider going with a smaller diameter shaft. Otherwise, stick with the standard and you're good to go.
For small hands or for women - Typically go for small diameter
Most other people - Standard sizing
Material
There are technologies we can geek out on but then I would require much more of your precious time. While low end paddles will make their products extremely cheap by using heavy materials (aluminum etc), mid to high end paddles will use lightweight fibreglass or super lightweight carbon fibre. Now, there are benefits and downsides to both outside of cost and weight. So, let's look at that quick.
Fiberglass
Fiberglass is obviously cheaper than carbon fibre. It is also more flexible. This can be useful for beginners as it doesn't put as much strain on your joints and muscles. This makes it a highly forgiving paddle.
Cheaper than Carbon Fibre
More flexible
Forgiving & beginner friendly
Carbon Fibre
Carbon fibre is generally lighter than fibreglass. However, it will be stiffer. This is advantageous because there is less power lost to flexing the shaft. But, that comes with the potential for strain on your body. Some brands will offer different shaft stiffnesses in the smaller sizes to try and counter the potential strain on your body. However, it will still be stiffer than fibreglass.
Lighter material
Stiffer - generating more power
More expensive
Paddles come apart, who knew?
Finally, many paddles come with options of fixed, adjustable, or 2/3 piece. Fixed is literally what it sounds like. It's cut to your size requirements and boom you're done. Adjustable is, again, literally what it sounds like.
If you are using the paddle for a few different family members, then an adjustable one can be very apt.
If you are buying the paddle for yourself, then I suggest fixed, as it is lighter and you don't have to worry about locking mechanisms.
Once, you have picked fixed vs adjustable you can also add the capability to break your paddle down into 2 or 3 pieces. This is really only necessary if you need to store it in a small space. For example, if you intend to fly with it. Just keep in mind that adjustability and 2/3 piece options can weigh and cost slightly more.
Now it's time for you to pick!
Final Considerations
Remember: 'High End' Paddles shine when you know how to use them
Buying the best paddle/most expensive paddle in the world doesn't mean it will be a great fit for you. High end paddles become increasingly less forgiving for your stroke. That is not to say you can't buy a high end carbon fibre paddle right away. I did. Just keep in mind what its intended use is for.
Budget – Aim for quality when possible
What can you realistically spend on a paddle? Keep in mind it's better to have a quality paddle rather than the worlds coolest deck pad. Coast Outdoors stock paddles for a range of budgets. We recommend avoiding cheap knock off paddles on Amazon (or Chinese imports that with stolen patents). They are less durable and some come with questionable warranties.
Your size& intended use is an important consideration
Blade size will largely be dictated by your physical strength and intended use. Bigger blades pull more water but are highly fatiguing. Smaller blade sizes are less fatiguing but will give you less propulsion per stroke. Again, buying the top race paddle may not be the best for you. Generally speaking, beginner paddles will have a specific set of design features that will allow you to learn the sport in a more forgiving manner. While a high end race paddle will be designed with a more forward paddle technique in mind.
Shaft diameter – the size of your hands
Do you have tiny hands or massive "Wreck it Ralph hands?" If you have beautiful tiny hands like myself then you may gravitate towards a smaller diameter shaft.
Fixed/adjustable vs 2/3 piece.
If the paddle is just for you, then get a fixed shaft. If you need to fly with it or want to store it in an inflatable bag then a 2/3 piece option might be worth considering.
Colour & Brand - Preferences and your own style!
Are you a brand loyalist or all about the colour? Well, if you have it broken down to 3 paddles that all work and one is the coolest thing you have ever seen. Now's the time to play the looks card. Remember: Look fast, be fast!
Alright, that's it for me. I said a lot of things and took a lot of your time. Gold star for making it all the way down to the bottom of this baby. Now go out there, get your paddle, and enjoy the water because it's one of the best places on Earth.